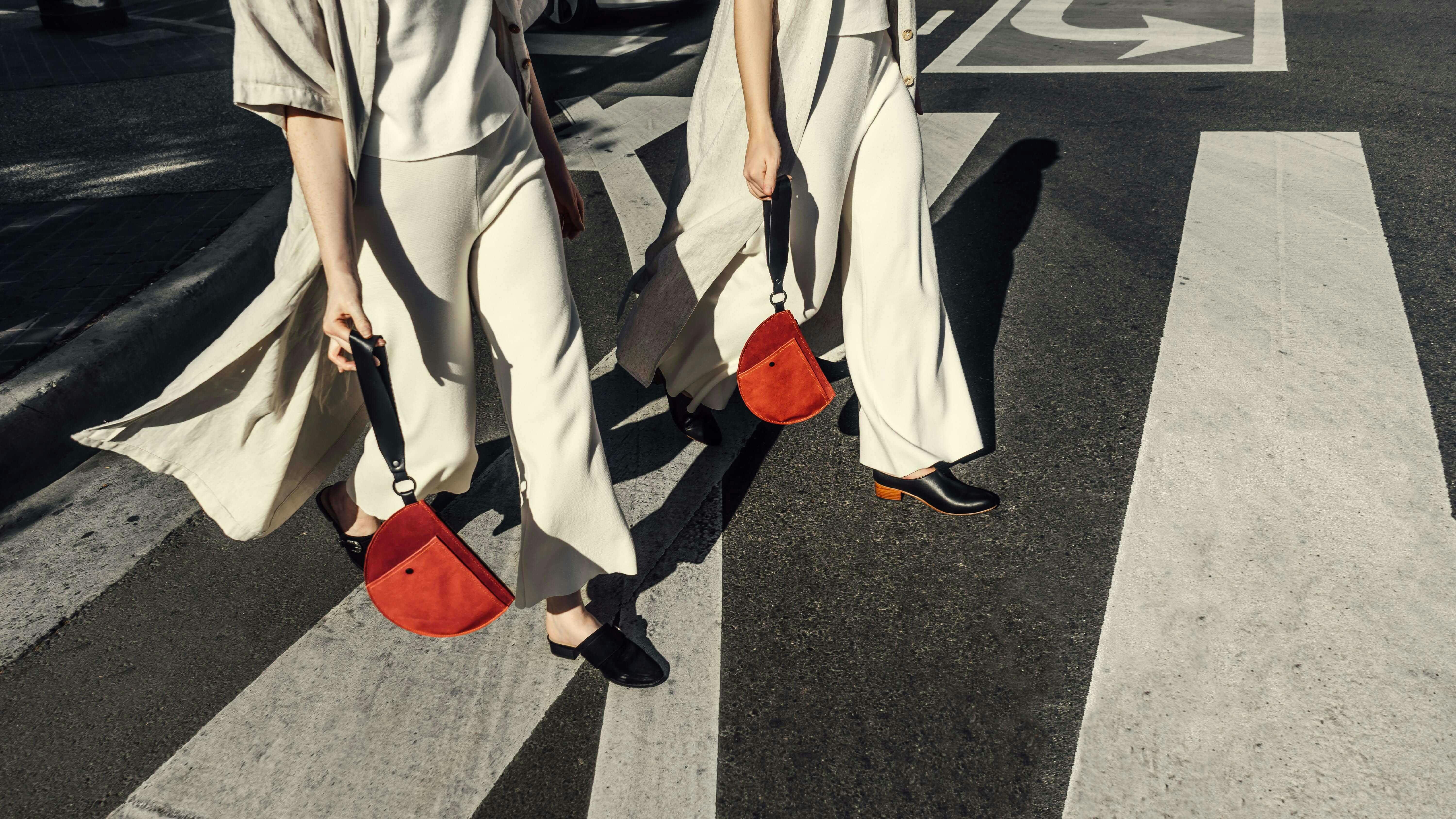 A Morning With Joel & Maggie Bear
Foreword / Afterword: MOUTHWASH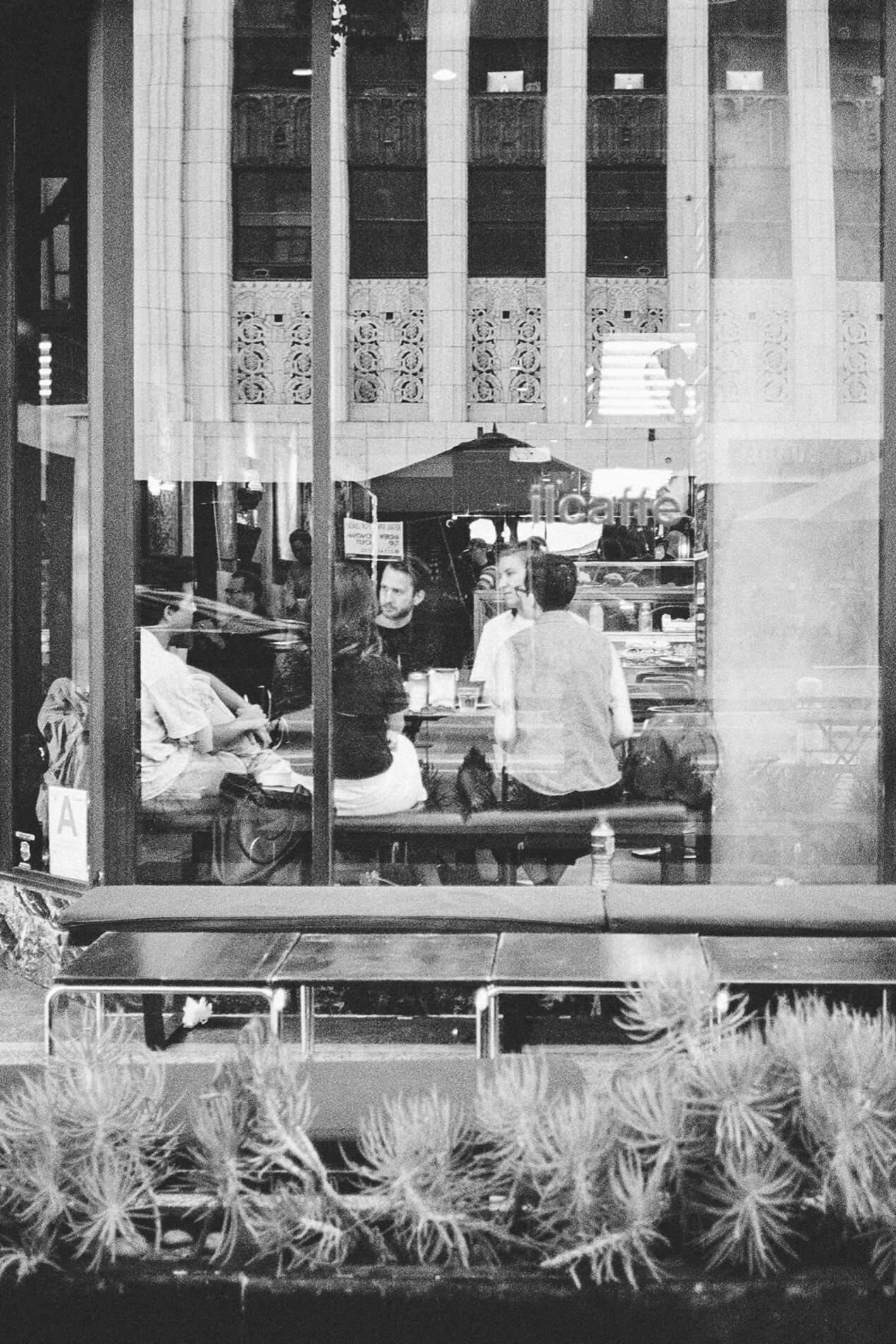 Foreword There's something about Los Angeles that's undeniably charming. If I had to pin down what exactly, I'd vote that it's the omniscient, persistent element of surprise—like being blinded by the vibrant colors of the buildings or spotting an overgrown floral shrub—that always keeps you looking. A sort of searching for whatever will catch your attention next.
In my case, my eyes were scanning for il caffé—and once inside, Joel and Maggie Bear. 
Adjacent to Acne Studios on the corner of Broadway and 9th, the entrance was nondescript and boasted two wooden benches—one of which was graced by the presence of the cutest German Shepard puppy. Score.
The inside of the cafe dramatically contrasted the fuschia and teal and blood orange of SoCal. The shop was long and narrow, its industrial metal interior dotted by people settling in for the morning. The MOUTHWASH team and I followed suit, grabbing our respective espresso drinks and making camp in a window nook. 
Little did I know, this was "the spot." Smack dab in the middle of L.A.'s fashion district, we were stationed in the only "euro cafe." Its minimalism was a double-sided coin—breathtaking, but a little intimidating. Uniform and distractingly particular.
It wasn't until Joel and Maggie joined us and we got to talking that I felt at home. 
Their simplicity was striking, not nearly as austere as their chosen setting to meet up. Maybe it was the way they looked at each other or the way they casually sat—open and comfortable—across from us. We might as well have been catching up with a pair of our oldest, closest friends.
No matter pinning it down.
——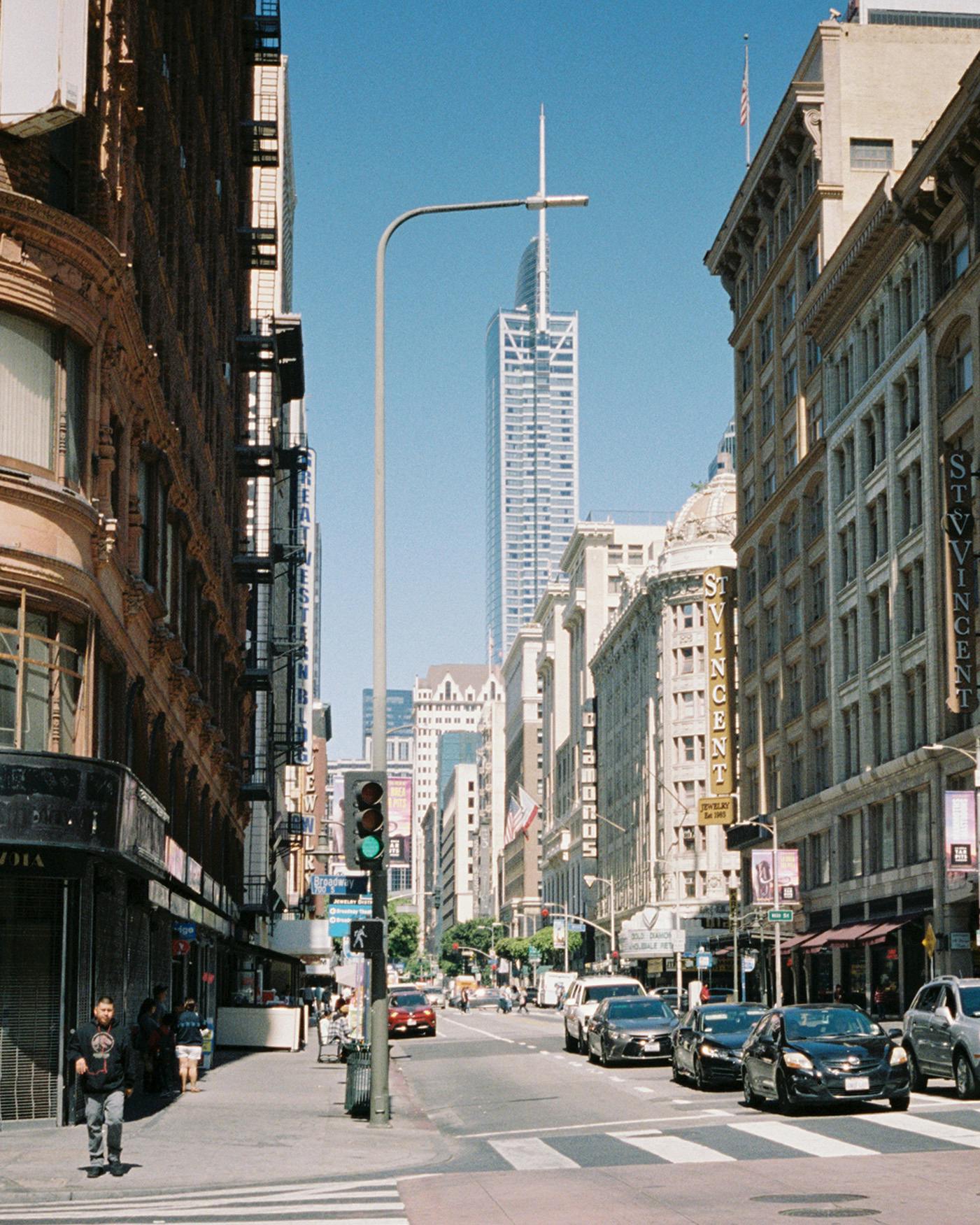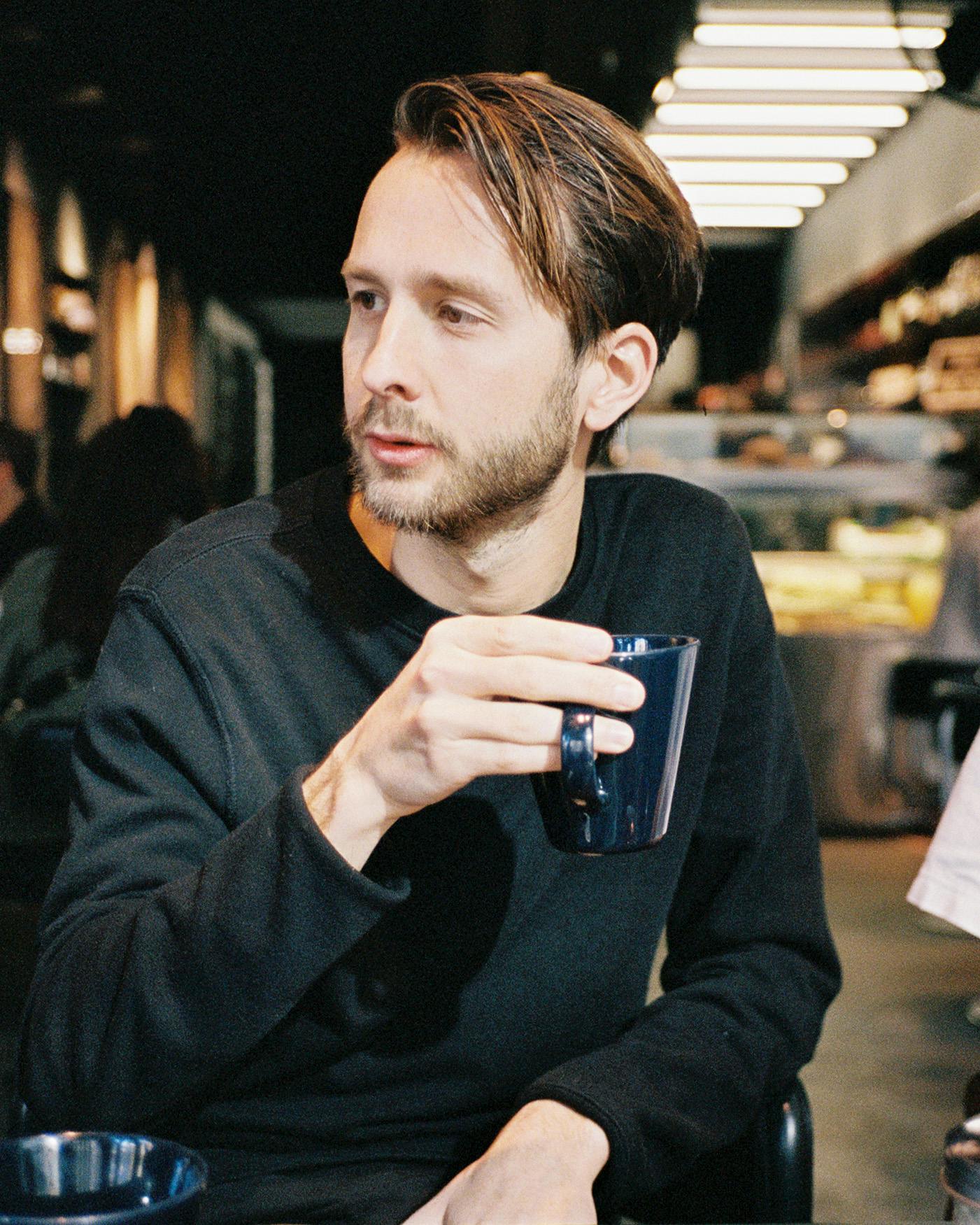 "If you both had to describe what you guys do to a stranger, what would you say?" I asked.
"I feel like that's a morning, wake up everyday question: 'What the hell am I doing today?" Joel exclaimed. "Right now, it's just exploring business and creativity. We ran MN3, a family-fashion design company that creates leather bags and accessories. I ran creative direction, Maggie ran sales, and we did the marketing together, plus we worked with my parents. We currently run Joel Bear Studios—a commercial advertising photo studio. I do creative, and Maggie's my producer. She keeps it working." 
"I send the reminders," Maggie followed. "I'm the mom."
"Do you know your Enneagram?" Mackenzie asked, half-serious and half-joking. 
After some deep-bellied laughs, we considered dropping the rest of our questions to take various personality tests. Per our projected Enneagram types (Mackenzie and I are pretty certain we're all a mix of 1's, 3's, and 8's), we opted to get back to work before we veered too far off-track.
One of my first points of intrigue—how did these successful, humble, and wise twenty-somethings acquire a taste for their craft?
Joel's parents are a manufacturing and design power couple, with his dad having worked in the manufacturing industry for over 30 years and his mom having worked in design for over 30 years. They were both crucial components of the MN3 team.
Maggie's family is creative in their own right. She called them "tactile-artistic," describing those close to her as always using their hands to either run a plumbing business, make mosaics and quilts, or weld various objects.
And the similarities don't stop there, either.
Both Joel and Maggie were homeschooled (and no, Maggie swears homeschooling wasn't full of ruffles and jean dresses and a lack of socialization). Both of them were raised in Christian households. Despite Joel spending the first 10 years of his life of the East coast and the latter half on the West while Maggie was born and raised in Denver, they both share the same warm, grounded spirit. 
Together, they make complete sense.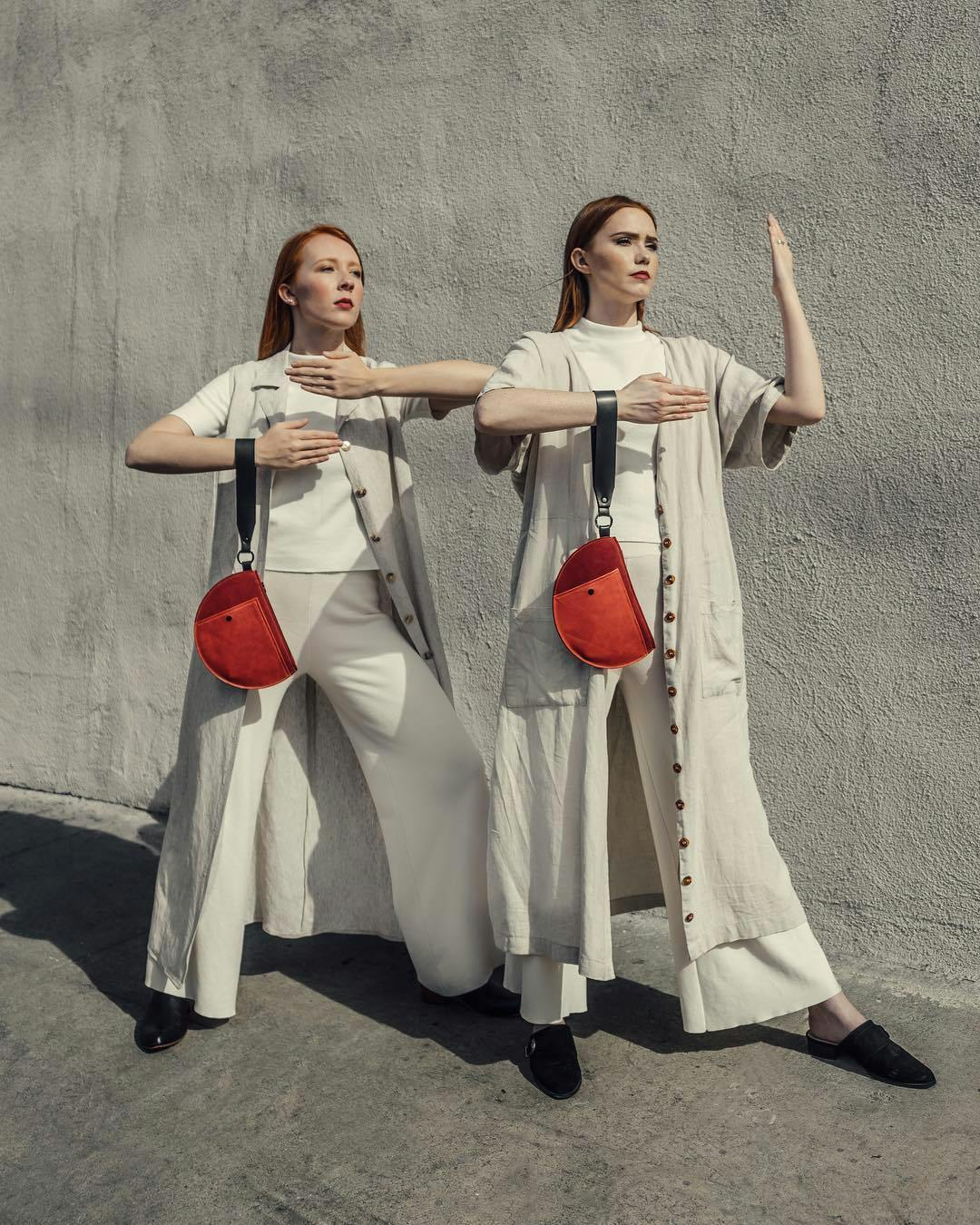 It's storybook, almost. The two met in college, became best friends and "have been attached at the hip ever since," Maggie said.
"We really wanted to do life together. Not have our two separate jobs, come home, only have evenings and weekends together, but build out every single area of our life. It's been challenging but is also the best thing ever."
A week after they got married, they filed for a business license to start photographing weddings. This was around the same time when being "suggested" on Instagram was a make-it-or-break-it industry accreditation—and he and Maggie weren't.
"It was this constant feeling of, ''Okay, hell, I have no idea—I'm knocking on doors and it's not working.'" Joel said. "I'm going to figure out a way to get through the window.'"
Fast-forward a few years, and the two were cutting their teeth working for the Swedish outdoor-gear retailer Fjällräven, a company who wants their products to "be with customers on their most memorable journeys and adventures."
Philosophically, the partnership couldn't be a better fit. We were curious, though—how did they even get a seat at that table?
"The guy who hired us for Fjällräven was like, 'Hey, I've been watching you guys on Instagram for six months,'" Joel said, pausing to make sure the irony sunk in. "He saw us when we first came out of weddings and started doing more adventure and saw where we were going with that. 'Okay, these kids are young, they're hungry, they're ready to come on. They'd be a good match to come in and fill the need that we have for this brand and just be down.'"
They didn't have a big production company behind them. No extra experience. Again—not "suggested" on Instagram. But Joel and Maggie were unrelenting, and vowed to "drive and drive and drive, and go to places, and do the things, and figure it out."
Talking to anyone else who speaks with this much passion usually feels like a mental race. To be honest, I'm usually left doubting myself and my path—but with Joel and Maggie, I felt energized. 
Maybe it was because our discussion about work was always interrupted by something more fleeting—more birds-eye-view—on their minds. Their wisdom, vulnerability, and honesty made them feel more human. Advice came as a relief, and we craved it. 
"Have you ever heard of the 80/20 rule?" Joel asked, picking up a dip in conversation. "80 percent of what you do is enough. After 80 percent, you get bogged down. There are similar terms in engineering too—under-engineering and over-engineering. Toyota is the king of learning this. They looked at, 'if we bring too little value to the table, and it's going to cost us. We can over-engineer, and it's going to cost us, too.' With our work, all of a sudden we'll be making all of these decisions, and we have to be like...wait a second. Is this at 80? Is this good enough to go? If it is, pushing it forward might just bog us down. It's learning how to settle with 'good enough.'"
Good enough? How do you swallow "good enough?"
"You give yourself clear guidelines," Maggie stated, empathetic but sure. "You have a timeline. You have accountability. It's having really set goals and guidelines and meeting them. Life is a learning curve. Sometimes that gets extremely daunting, and you're like, 'I just want to know what to do before I do it.' More often than not, you just have to say, 'okay I have to go figure out how to do this.'"
——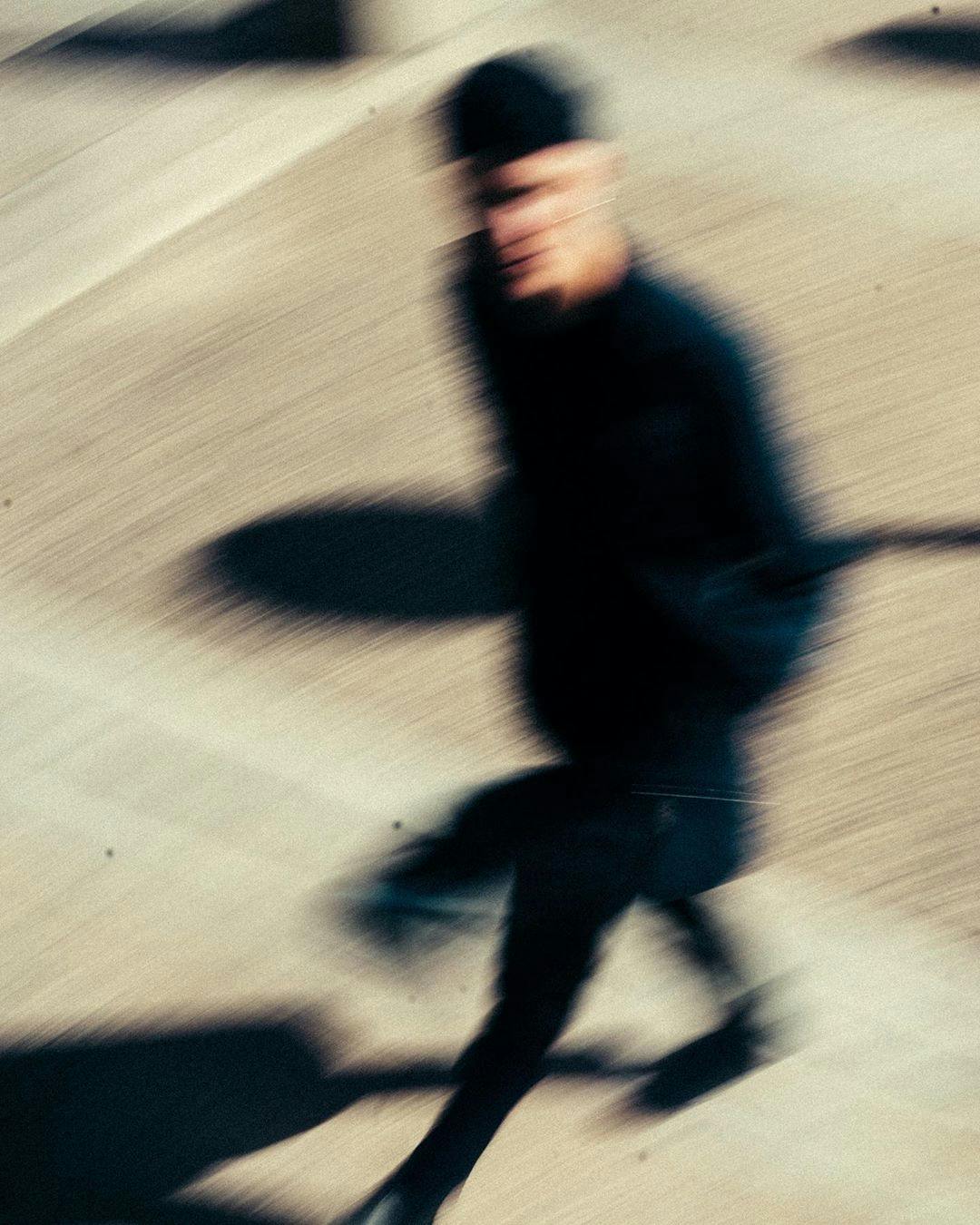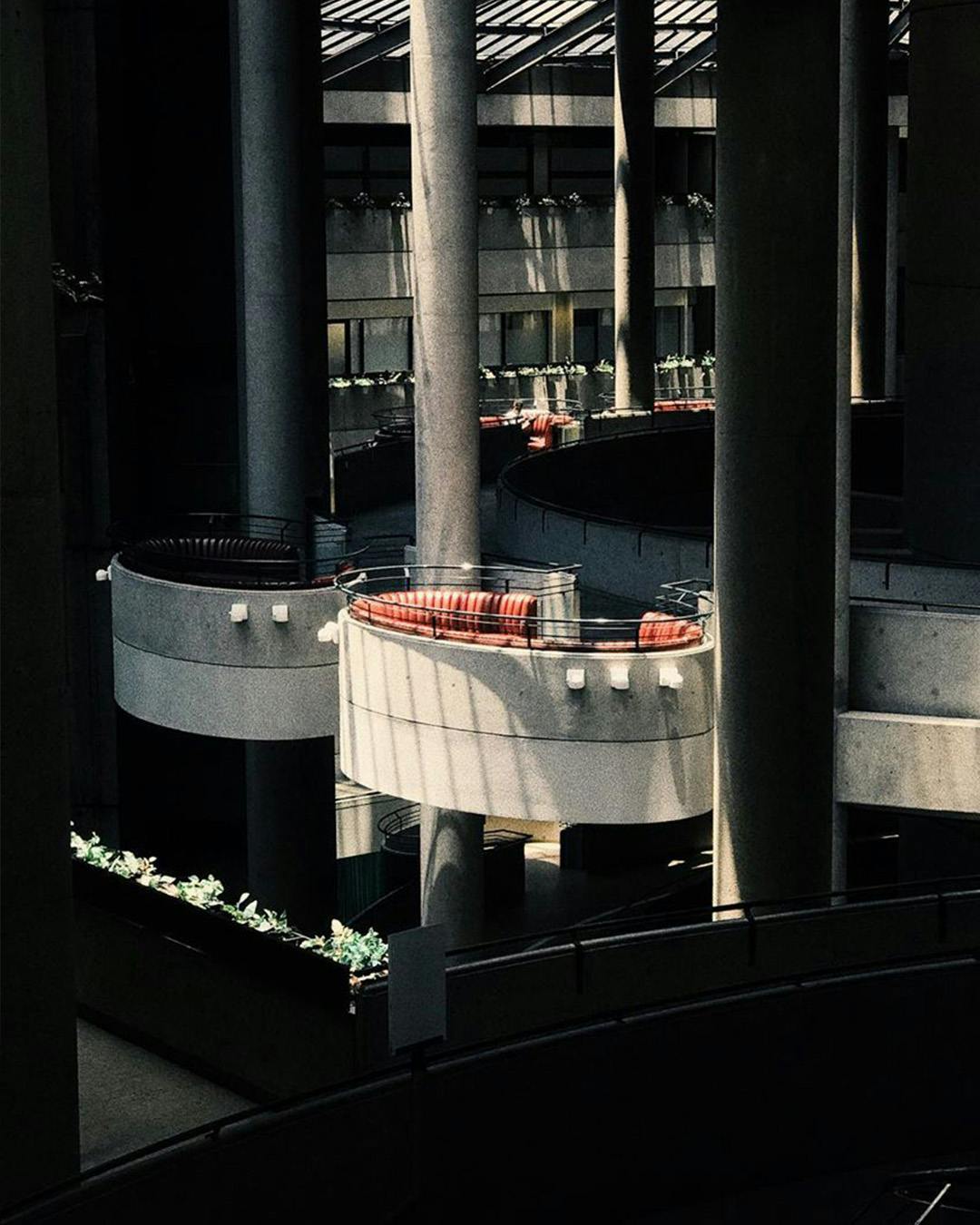 Afterword Their description of their journey, one that was most definitely not linear or a walk in the park, was that they were simply building their tool belt.
Forget photographers and art directors and leather-goods makers. They're architects if anything at all. Taking an idea from zero to one, then a project from one to five, and finally seeing it through from five to 10. 
Mix all of these facets together—an artful upbringing, a love for one another, an underdog mentality, and a dash of luck—and you have a pairing that is irrefutably special.
——
Quick Hits:
CURRENTLY READING
Joel:
They Call Me Supermensch: A Backstage Pass to the Amazing Worlds of Film, Food, and Rock'n'Roll by Shep Gordan
The 48 Laws of Power by Robert Greene
How to Win Friends and Influence People by Dale Carnegie
Maggie:
Benjamin Franklin: An American Life by Walter Isaacson
How to Win Friends and Influence People by Dale Carnegie
——
CURRENTLY LISTENING TO
Joel:
Kendrick Lamar, NF, 6lack, Lecrae, Frank Ocean, Travis Scott, the Black Panther album, David August, Gesaffelstein, Lorn and Bonobo, the song "Solomon finds family" of the Blood Diamonds Soundtrack by John Newton Howard.
Maggie:
An assortment of things and typically it is the book she is going through. Although, lately, she'll throw on Gary Vee and The Ben Shapiro Show.
——
CURRENTLY INSPIRED BY
Joel:
So many people. Right now, Rick Rubin is a huge study along with Winston Churchill, Mirko Borsche, Virgil Abloh, Scooter Braun and Jordan Peterson.
Maggie:
Maggie's inspired by figures in history like William Wilberforce, Gladys Aylward, Dietrich Bonhoeffer, Corrie ten Boom, Benjamin Franklin and so many more.
A Morning Spent with Joel and Maggie Bear