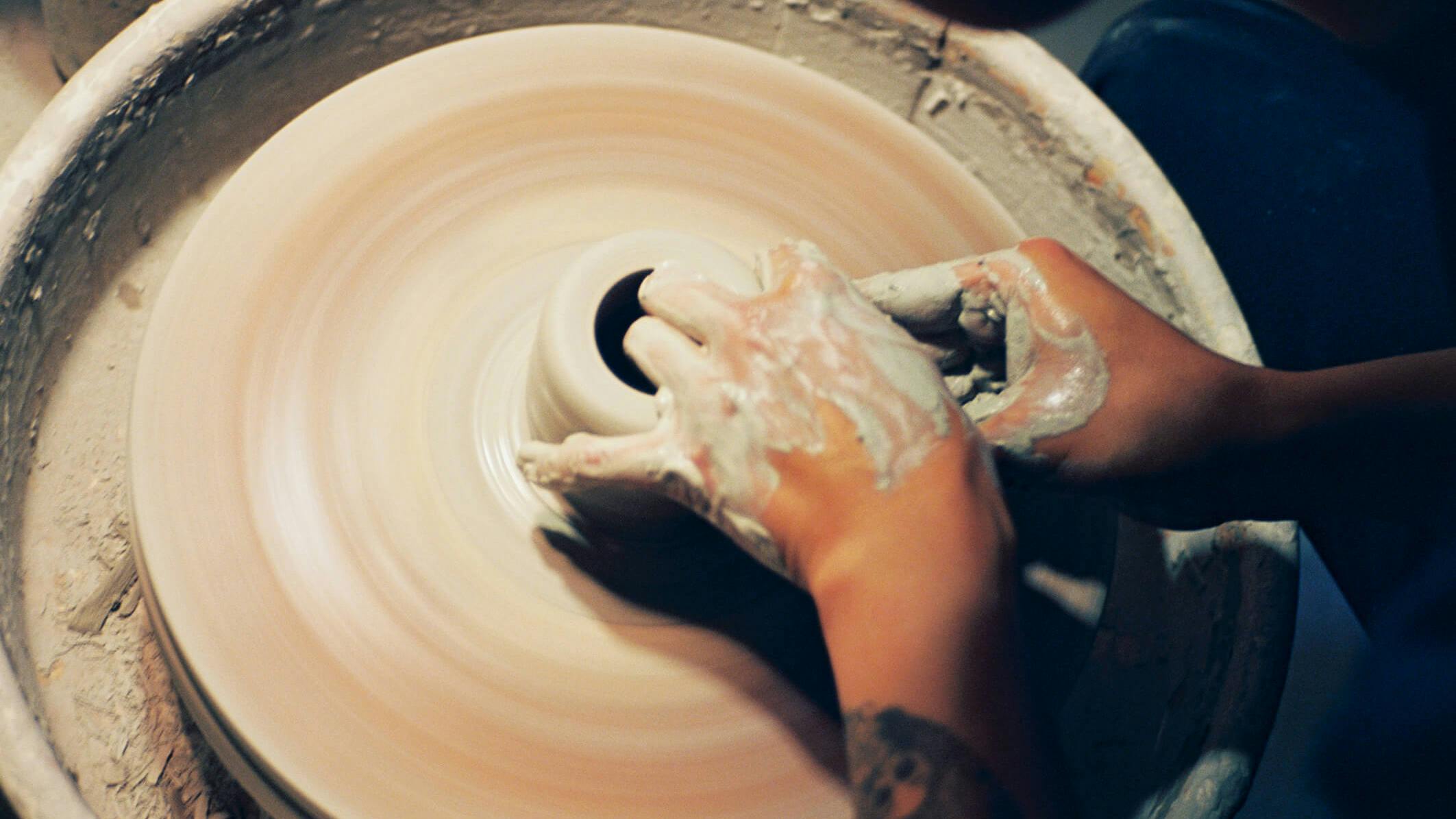 An Afternoon Spent With Phill Kim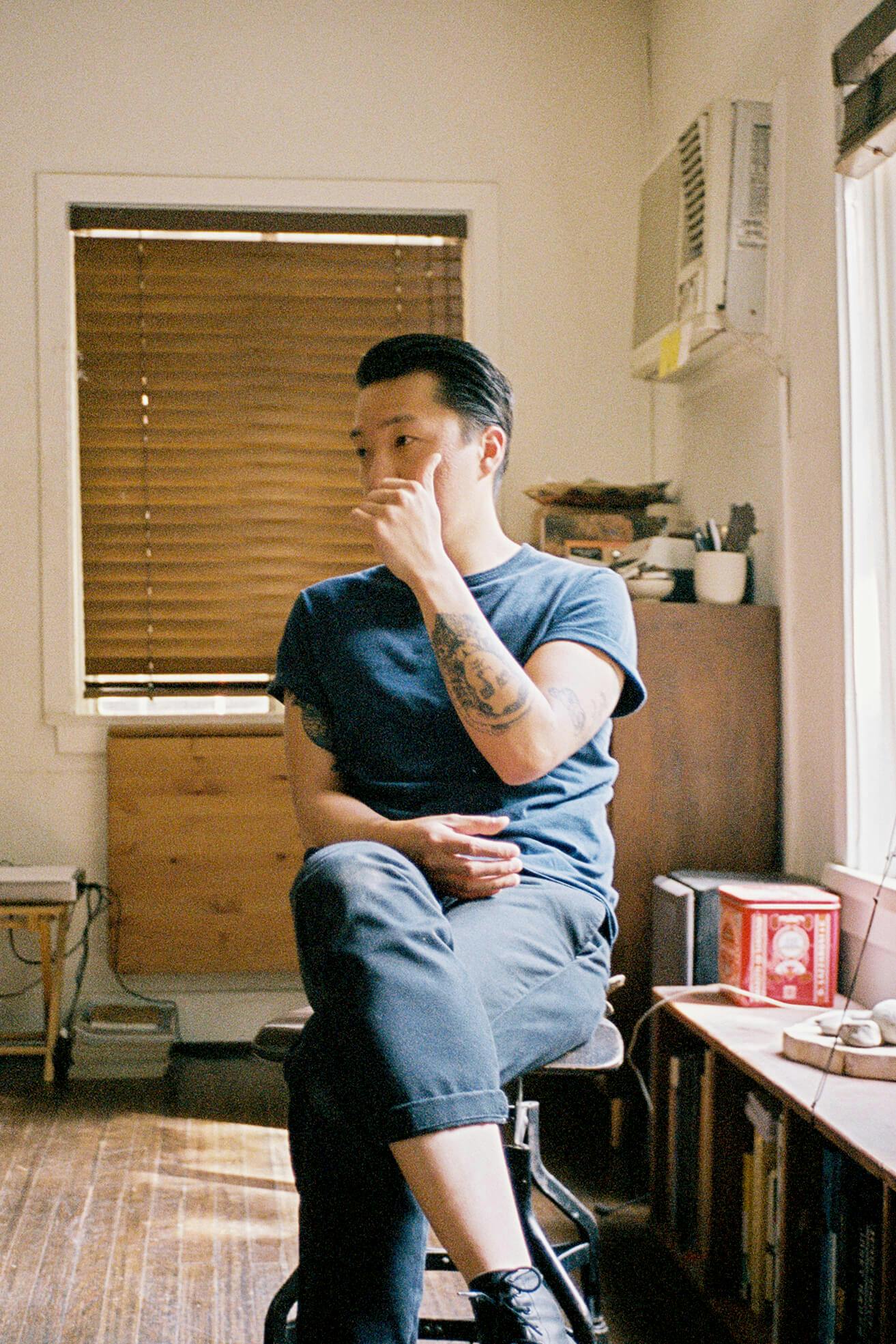 An Afternoon Spent with Phill Kim
Written by Bianca Smith
—
Phill Kim of PKK Ceramics invited us into his Echo Park home this past summer, where we talked about his creative journey, artistic vulnerability and risk, and how being true to yourself is the ultimate achievement.
—
Warm light filtered through the windows of Phill Kim's ranch home and studio with the same fervor as it does on the longest summer day of the year.
Blue shadows painted the floors. Each individual plank of wood made special, impossible to ignore the varied grains, twisting and forking off into various paths leading to surprises scattered throughout the living room.
On the wall next to the couch, a Ruth Bader Ginsburg figurine guarded two rows of books organized by color—green first. Above those rows, two LA Dodgers bobble-heads surveyed fresh carnations that stood tall in a vase made by Phill himself—inches away from a handful of mugs molded by his hands, and feet away from a dining table he too fashioned.
The whole space was gift, carved into an Echo Park hill. And taking it all in made one thing particularly apparent: Phill is through and through an artist. 
Ceramicist, sure. Designer, one hundred percent yes.
But I'm not talking labels. The word, forever thrown around and many times empty, carried weight. His entire being was curated. Not with pretension or grandeur whatsoever, just real intention and craft. 
And it was that wholehearted embodiment of the word that made us exponentially more curious. We dove in.  
—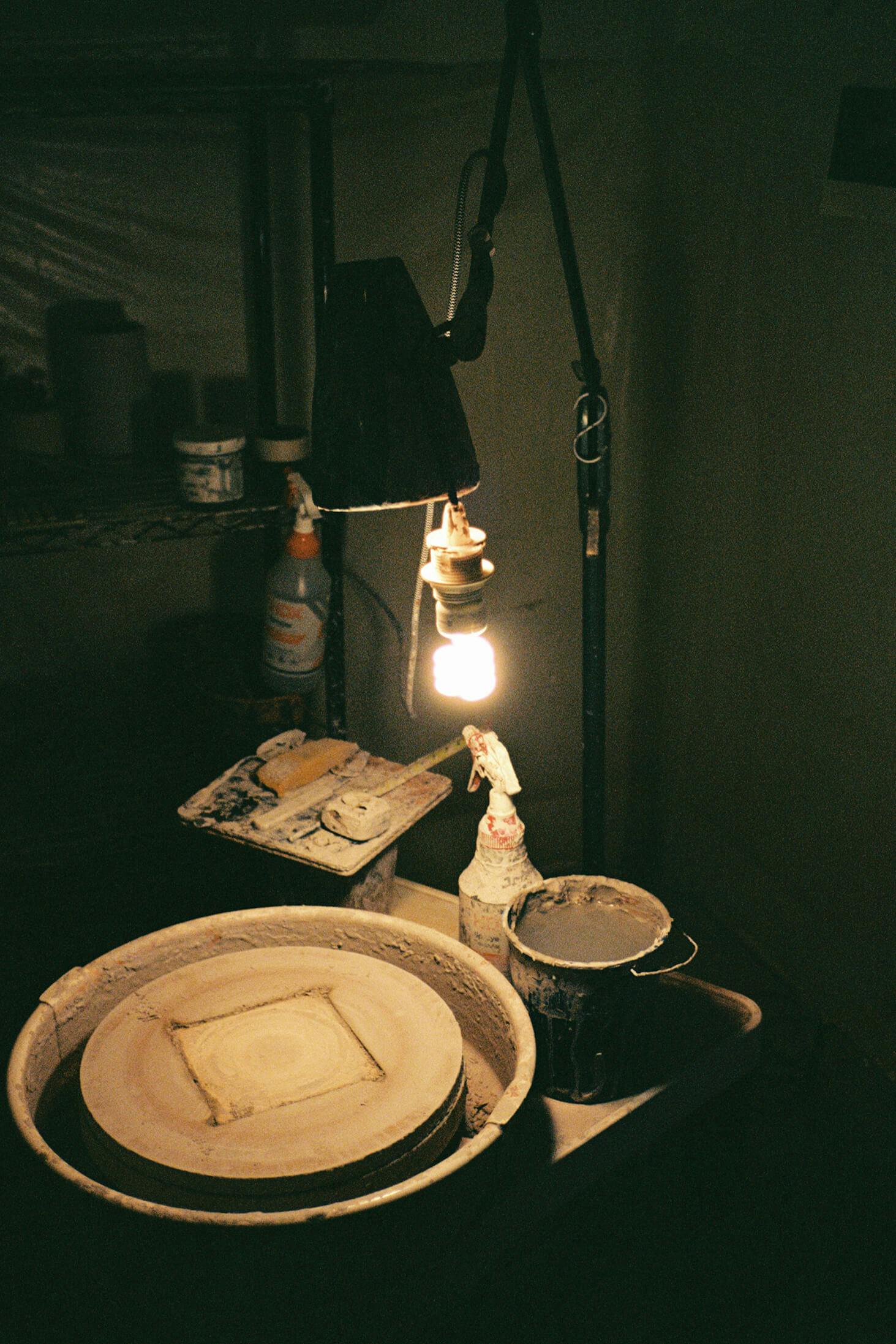 "Can you pinpoint the moment when you had the realization that you knew that this is what you wanted to do?" I asked.
Of course he didn't—who does? As a Korean-Brazillian-American who moved to California from Brazil when he was eight-years-old with his parents, brother and sister, Phill remembers those cultural differences impacting him the most. 
First, he credited food as being the creative influence. But then he recalled editorials being transportative, allowing him to continue experiencing new worlds from the comfort of his room in the suburbs of LA.
"The cinematic element of editorials hooked me. Think Tokion Magazine, or Stephen Shore and William Eggleston. Their sense of colour and the ambience they created—" he trailed off in thought. 
"By the time I was in my 20s, I was just trying to figure it all out." Phill took the plunge—actively honing his skills and eventually getting into his dream school, RISD, to study photography.
And in no time at all, the 2008 financial crisis—the worst recession in global history—hit. 
"I literally wrote out the pros and cons in my college apartment: either move back to LA or stay and go through the financial stress of staying in school." Phill said. But the financial burden was too heavy. "Luckily, my family didn't care what I did. My dad just said, 'whatever you do, photography or otherwise, just try to be best at it.'"
His once clear path officially forked.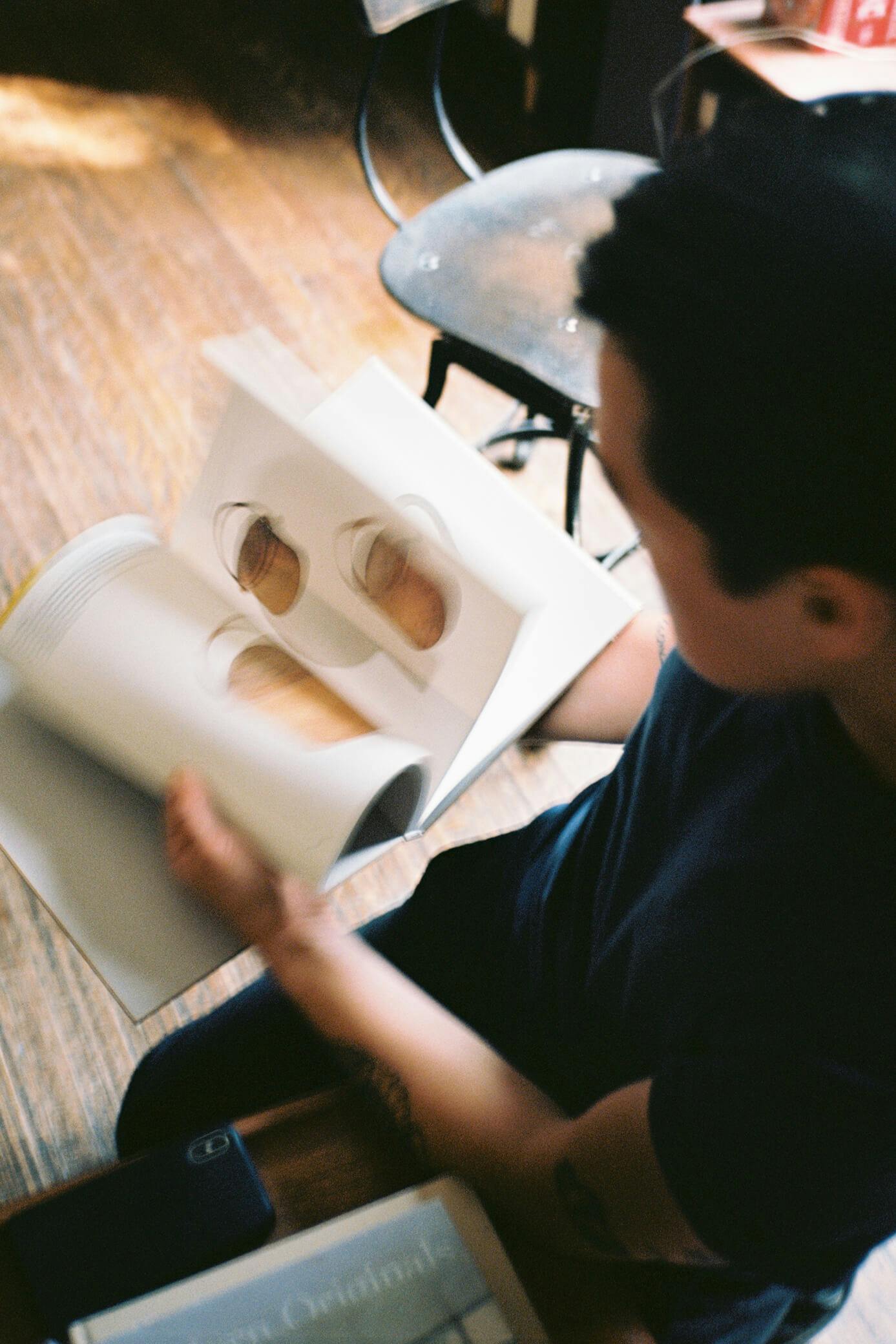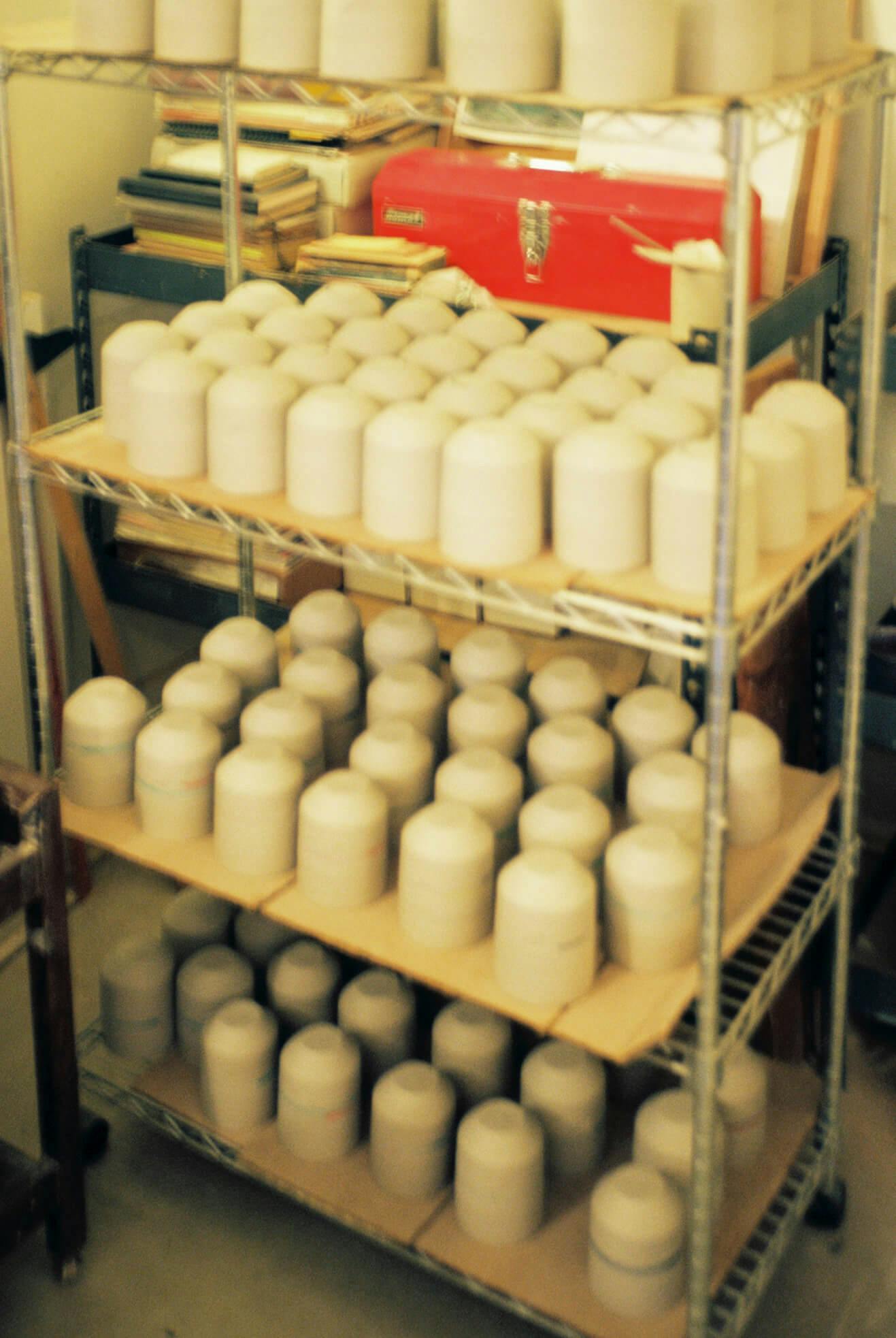 As Phill detailed this setback with a certain soft matter-of-factness, I couldn't help but admire the quiet intricacies of the vessel I was drinking water out of. Each edge, the texture of the material, the color. The jump from photography to creating functional, tactile items wasn't impossible to fathom or justify post-RISD.
Phill started a new journey shortly after—this time, in the coffee industry. That job eventually led him to Martha's Vineyard, where he ended up spending a year making cups for himself to enjoy his coffee in.
"It's considerably minimal, but making that table or the bench we're sitting on. I really enjoyed practicing that sense of design," he said. "I thought, what if you could make your own silky smooth cappuccino that you pour into your own cup that you made? That sounds fine."
The thought sparked an obsession—Phill was determined to make the perfect coffee cup.
He went at it most days, to the point where the person who owned the studio he was working out of would give him a hard time for his fixation. But the "ceramics branch" of his path wasn't without speed-bumps in the beginning. In a fallout that we all promised not to mull-over on the record, Phill credited the Korean concept of Han for helping him channel setbacks into ambition.
"Han is this fire that you have within you—when an injustice has happened to you, you either see red or you could channel it in a positive way." He describes. "I think about that a lot. Harnessing it is a process—one that I'm still figuring out. When you guys first reached out, I hesitated because I felt like, 'it's great that these people want to interview me and take photos, but it's like, man, do I want to do this? Because at the moment, I don't feel the best version of myself."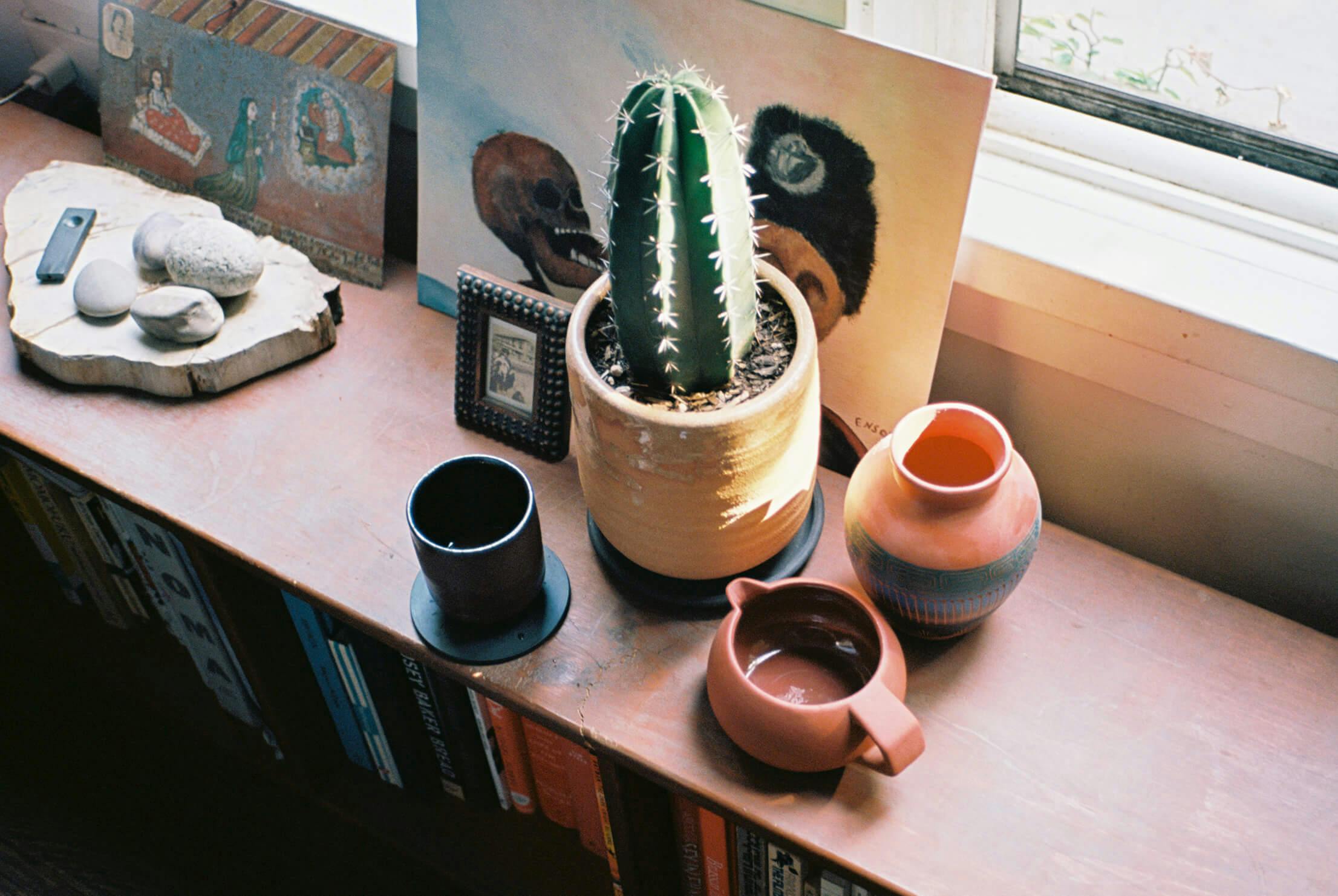 Maybe it was how deeply his stories resonated with us, or maybe it was the fact that Frank Ocean and Dolly Parton played in the background back to back, but I don't believe I've met anyone as grounded as Phill. 
Everything about him, too. From the pace in which he walked us through his perfectly imperfect path to how he sat in his chair to how each item of his space interacted with the next—felt balanced. Rooted, well-watered and cared for.
If this wasn't the best version, what was? If we feel this way about him as an artist—as outsiders looking in—what does that mean about how we view ourselves?
Are the "best versions" the only ones worth showing?
This ping-ponged around in all of our heads for the remainder of our time in his home, not to mention long after. 
—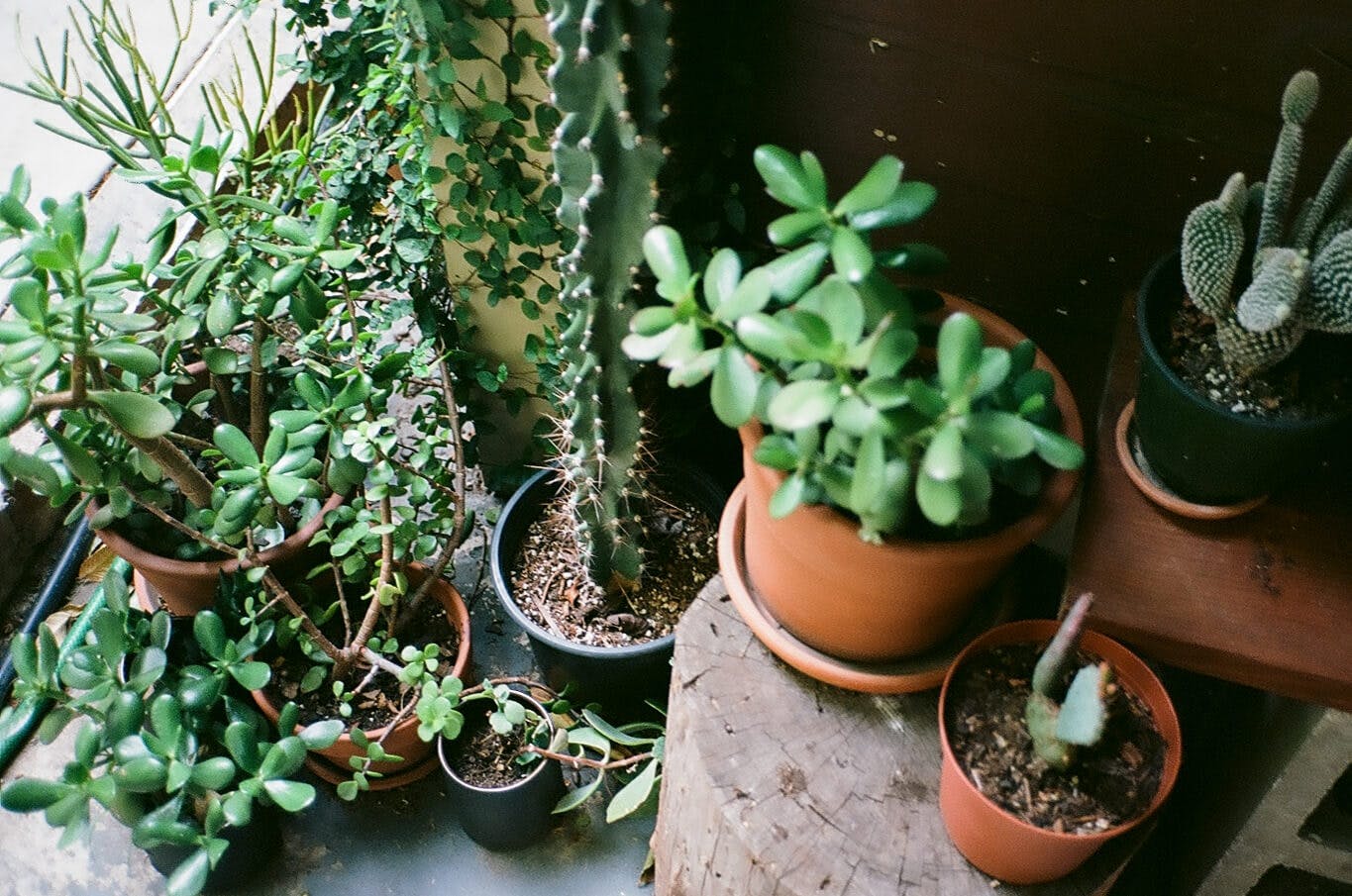 As conversation moved from philosophical to casual, Phill gave us a tour of his studio just a room away from where we were sitting.
It was beautiful and modest, full of different vessels in various stages of completion. Rows of almost exact replicas—simple, functional, tactful and raw—lined almost every surface.
Very nonchalantly, he pointed out a few where the glaze didn't do what he had wanted. Before I could comment on how it looked perfect to me, he asked if we wanted to throw it.
"On the ground? No—"
But it was too late. The cup quickly exploded into 20 fractured pieces in front of us all. Completely at ease with letting go of his work, he couldn't help but hide a small smile on his face. And just as quickly as the cup hit the floor, he continued on with explaining his space.
Infectiously liberating, let me tell you.
An exposed, hanging bulb lit Phill's wheel as he began showing us how he constructs one of those perfect coffee cups. As it was nearing completion, he looked to Mackenzie.
"Want to get rid of it?" he asked?
We all gathered around as she used both hands to cave the opening of the cup in on itself.
"Satisfying," he said.
It was easy to understand then. No matter where he was (or where we were) in our creative journeys, the imperfections and the process of it what's worth leaning into.
—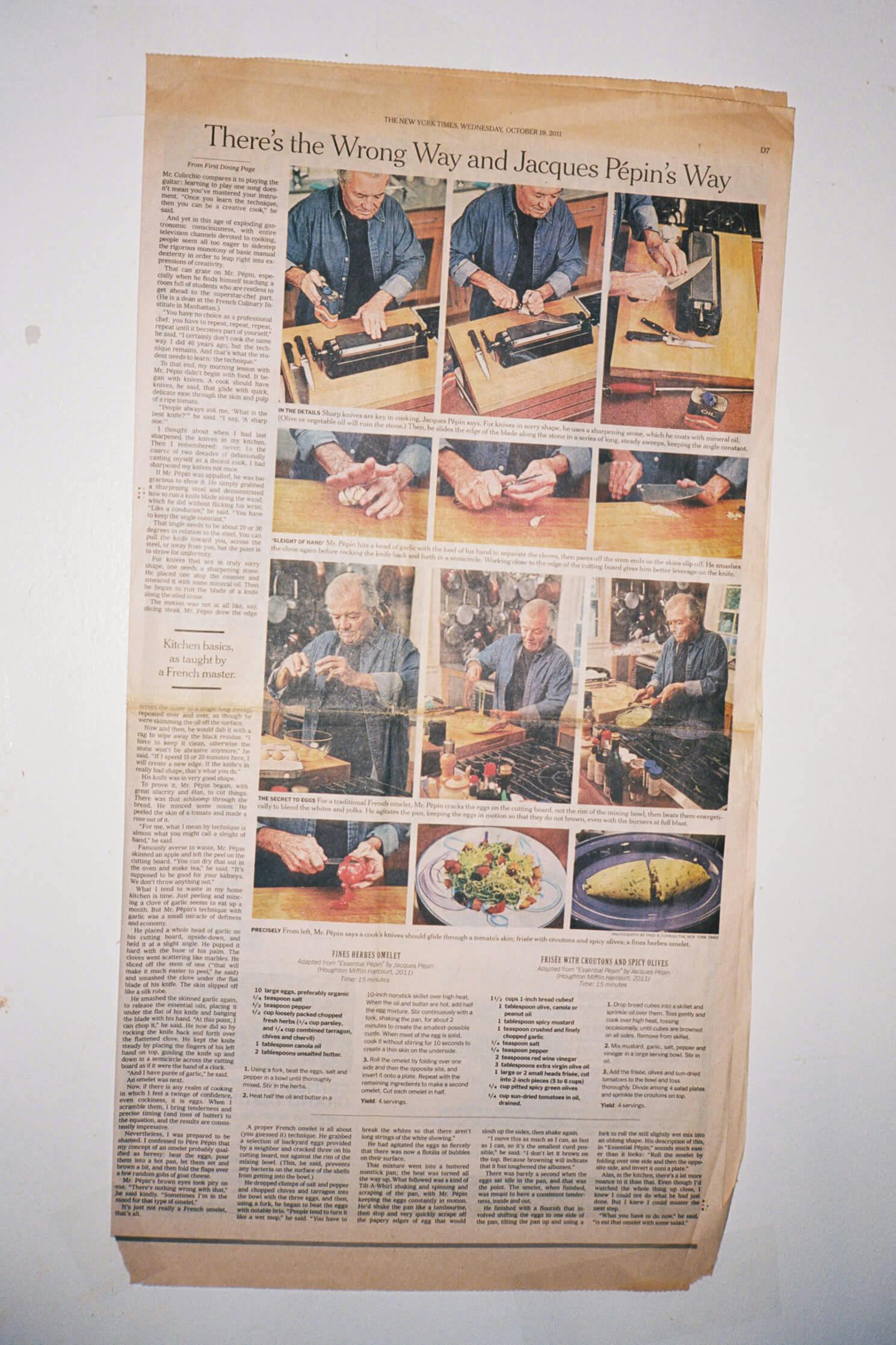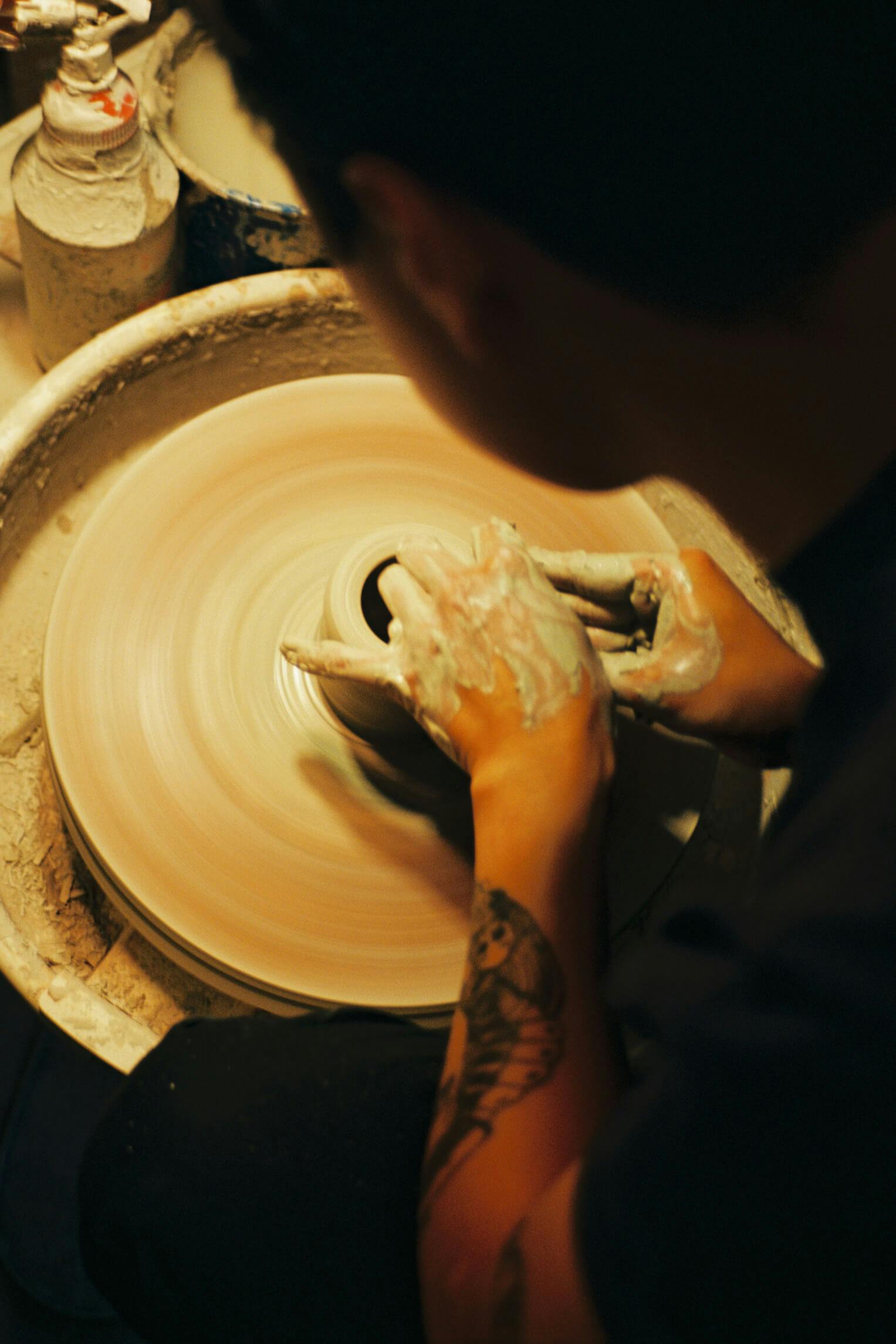 Quick Hits:
Currently reading:
I'm in the middle of "Range" by David Epstein (Why Generalists Triumph In A Specialized World).
Currently listening to:
A lot of Bob Lind. Just went back to the Moonlight soundtrack. Too good. I've never been a Taylor Swift fan, but there's a lot to say about her new song "Lover." I've listened to it, like, 30 times in the last week. 
Currently working on:
Plateware for some friends that are opening a new restaurant.
Who and/or what inspires you:
This is a hard one. Lots of moments and people inspire me, and it's this ongoing cycle (so important to be aware of and let it happen)—which I realize is the ultimate medicine to combat becoming jaded.
An Afternoon Spent With Phill Kim